Hotel Olecki Oświęcim 01

Hotel Olecki Oświęcim 02

Hotel Olecki Oświęcim 03

Hotel Olecki Oświęcim 04

Hotel Olecki Oświęcim 05

Hotel Olecki Oświęcim 06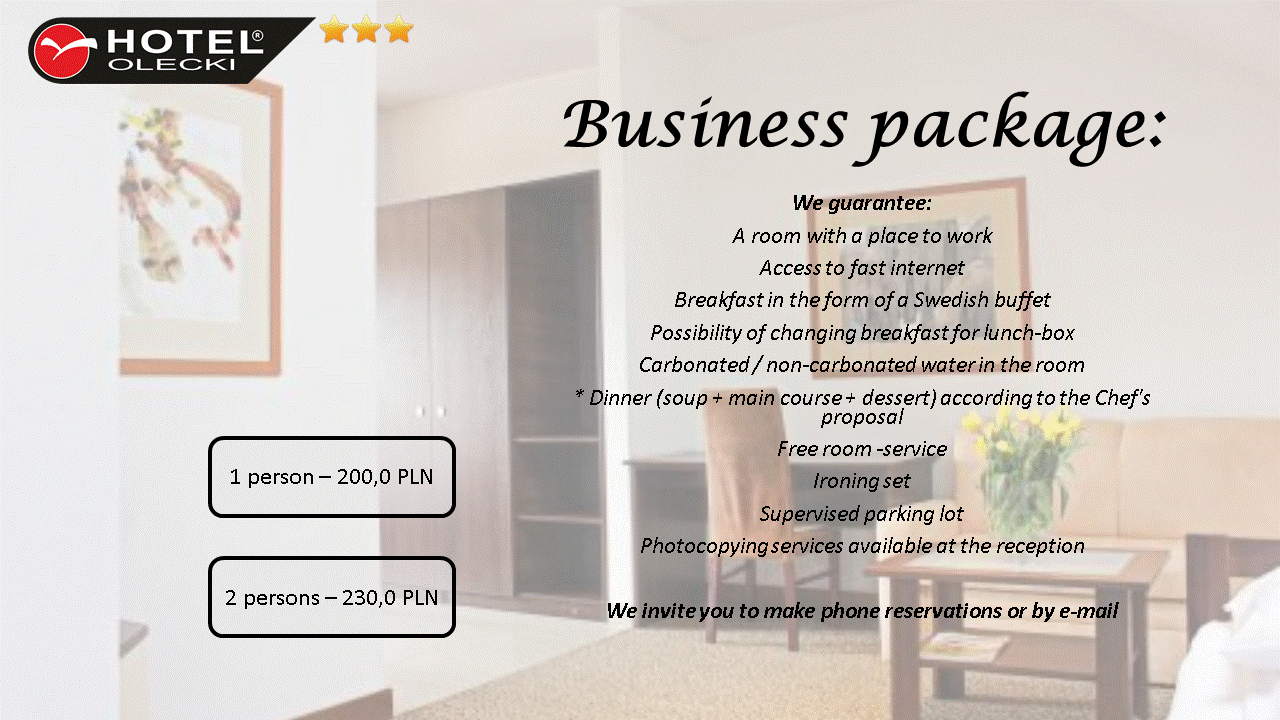 Olecki Hotel
***
We invite you to discover our hospitality and everything we can do to satisfy our guests.


scroll down
About our hotel
We are in a historical place not only on the map of Poland but also in the whole world. Although Oświęcim (Auschwitz) has a turbulent history, today it is one of the most exclusive and beautiful cities in this part of Poland, a Our hotel, with all its services, services and facilities, perfectly fits into this high-class scenery. In our unique hotel, we delight you by technology, hospitality and personalized service, which is consistently provided by the highly qualified staff. It all makes the guests will remember stay in our hotel, always as a nice memory and an unforgettable experience. We appreciate these opinions and that is why we continually strive to make our Olecki Hotel in Auschwitz meet the needs of all guests.


Read More
Our Rooms
Hotel Olecki *** has 27 rooms with a total of 72 beds. We offer 3 apartments, 10 triple rooms, 8 double rooms TWIN; 3 double rooms DOUBLE and also 2 four bed rooms. All hotel rooms are adapted to the needs of our guests. Each room and suite is equipped with bathroom and shower.
Equipment
All rooms are equipped with: Wi-Fi internet, flat screen TVs, efficient air conditioning. Each room has a desk and a telephone. All rooms have a wardrobe and minibar with bottled mineral water. All rooms and suites have a private bathroom with a shower, which includes toiletries and towels. Ironing sets are available on request.
We have an individual relation to every guest - It has long been the motto of our hotel!
Olecki Hotel in Oswiecim is one of the most sought after hotels in the region, offering everything you need - in one place! We will do everything we can to make Auschwitz visit unforgettable to each of our guests , full of joy and happiness. Over the years, our hotel has been visited by tourists from all over the world - hospitality is our sign, so if someone decides to stay in Auschwitz - he always come back to us. We believe that anyone who decides to stay in Auschwitz - at any time - will have no doubt where to stay.
Restaurant
&

Bar

The restaurant, café and bar offer typical local cuisine with excellent quality. This makes us confident that our menu card will meet even the most demanding customers. Our hotel, due to its convenient and interesting location, is ideal for business guests, tourists and organized groups planning not only a visit to the Auschwitz Museum but also interesting places in the city of Auschwitz. After all, the location of our hotel is perfect for exploring and discovering the secrets of our beautiful city - with many galleries, restaurants and pubs. That's why our hotel is a great choice for those who are looking for historical and cultural experiences. Here you will find pleasure and tasty food.
We offer
Guests of the hotel can enjoy breakfast, lunch and dinner. We recommend the daily specials from our varied menu. Also we offer a richly stocked Drink Bar.
Booking Inquiry
Individual booking:
Group Booking: